Et stort studie med 33.528 kvinder viste en sammenhæng mellem kortvarig søvn og forøget risiko for brystkræft såvel som en sammenhæng med lave niveauer af melatonin. Melatonin, som frigives af pinealkirtlen som respons på mørke, er involveret i kontrollen med kroppens døgnrytme. Frigivelsen af melatonin stimuleres af mørke og undertrykkes af lys.[1]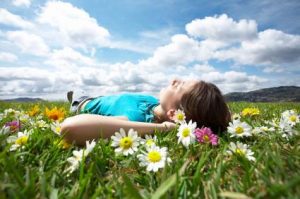 I det omtalte studie, som blev publiceret i 2008 i det medicinske tidsskrift Carcinogenesis, brugte forskere fra 3 universiteter – University of Southern California Keck School of Medicine, University of Minnesota og National University of Singapore – data fra kvindelige deltagere i Singapore Chinese Health Study. I løbet af en gennemsnitlig periode på 11 år, blev det konstateret 525 tilfælde af brystkræft.
Studiet viste en sammenhæng mellem en længere søvnperiode og reduktion i risikoen for brystkræft blandt kvinder efter overgangsalderen. De, som fortalte, at de sov mindst 9 timer havde 33% lavere risiko end de, der gennemsnitligt sov 6 timer eller mindre. Denne sammenhæng viste sig primært blandt slanke kvinder og var tydeligere for de, der ikke havde diabetes.
Forskerne ønskede også at undersøge, om der var en sammenhæng mellem melatonin niveauet og søvnlængden ved at analysere indsamlede urinprøver fra 498 personer. Analysen viste, at niveauerne af melatonin hos de, der sov mindst 9 timer, var gennemsnitligt 42% højere sammenlignet med de, der kun sov 6 eller færre timer.
Reference:
[1] Breast cancer risk associated with less sleep in large study population. http://www.lifeextension.com/WhatsHot/2008